September 14 Zoom Meeting
Our next meeting will be held via Zoom at 6:30pm on September 14. Please plan to attend to discuss any topics of interest regarding the neighborhood of Mayfair. Zoom meeting attendance details will be sent out to our email list before the meeting. To join our email list, visit https://groups.google.com/forum/#!forum/mayfair-civic and click "Ask to join group".
Letter from the President
We hope that everyone has been enjoying the cooler weather and end of Summer.
We started Summer with a performance by vibraphonist Preyas Roy at the Mayfair Library Branch in June and open the Fall with the Mayfair Park Advisory Council's Mayfest scheduled for Saturday, September 9 (see separate article).
We supported and coordinated with the North River Commission, Chicago Poetry Center, and Volta Elementary School to celebrate National Poetry Month through installation of four poems in Rany Management storefronts on Lawrence, photos of which are included here. We hope you enjoyed them and look forward to future installations.
We also supported installation of the new Community Mural sponsored by PEBA and designed by Erin Minckley of Relativity Textiles at the Rany Management building at 4219 W. Lawrence where Erin's shop is located. See photos of the progress on the mural here. Thanks to each of them for this beautiful artwork!
Since our last meeting, votes continued to come in for the selection of a sculpture for installation at Mayfair Park. This resulted in a close choice between two works by Kirk Seese: Chess Table & Chair (which won) and Retro Space Junk, which received 12 and 10 votes, respectively, with all others receiving just 1 to 5 each. The Chess Table and Chair received the most first choice votes (9), 1 second and 2 third choice votes. Retro Space Junk received the second most #1 votes (3), 5 second choice and 2 third choice votes. Photos of both sculptures are included below. Unfortunately, we learned last week that The Chess Table and Chair was granted to a different location. Consequently, we will proceed with Retro Space Junk for the related Park Enhancement application to the Park District and installation arrangements with Chicago Sculpture International and the artist. Thanks to all and especially to Mayfair Park Advisory Council which is sharing the related cost.
Congressman Quigley has scheduled to attend our next meeting, unless his schedule is changed by Congressional demands. We always look forward to his attendance and updates. We hope to see you there, too!
We will meet via Zoom at 6:30pm on Thursday, September 14. Details are here.
2023 Meeting Schedule
Mayfair Civic Association meetings are generally held on the second Thursday of every month. No meetings are held in January, July, or August. These are the remaining dates for 2023. These are suggested meeting dates and topics, subject to any comments you may provide, but will be followed in the absence of alternative suggestions. Our Board generally meets quarterly as determined by Board members.
September 14
Traffic & Parking
November 9
Annual Party Planning
October 12
Elections
December 7
Holiday Party
Membership Meetings
Here are some details from recent meetings of the Mayfair Civic Association.
Thanks to the neighbors, as well as to the offices of Alderman Nugent for Ward 39 and Representative Mike Kelly for District 15 for attending.
Reminder: The MCA is looking for a new treasurer!
If you or someone you know has accounting skills and would like to get more involved and contribute directly to your neighborhood, Mayfair Civic Association is looking for a new treasurer. Those interested can contact MCA President Ron Duplack at rduplack@rieckcrotty.com. Thank you for your support!
Poems from Volta Elementary School for National Poetry Month
Here are the poems that were displayed in Rany Management storefronts on Lawrence as part of National Poetry Month in April, originally mentioned in the April issue.
Sculpture at Mayfair Park
Votes are in from the neighborhood for a sculpture to be installed in Mayfair Park. For details, see the article from the previous issue of this newsletter. Below are the top-voted sculptures, both by Kirk Seese. Work is proceeding on the application and installation details!
Updates from the Alderman
The following are some highlights from Alderman Nugent's newsletters and other communications.
Participatory Budgeting Cycle 4 Results
The results are in for community-selected infrastructure improvement projects that will be funded through the fourth cycle of Participatory Budgeting (PB) in the 39th Ward.
1,044 residents chose from 11 projects to improve our ward. Four projects will be funded, totaling $500,000.
Funded projects in Mayfair include:
For a full list of funded projects, visit https://aldermannugent.com/participatory-budgeting.
Thank you to the Participatory Budgeting Committee for their work and dedication to the process, and thank you to all the community members who submitted project proposals and ideas for improvements across the ward.
Visit and Subscribe!
Visit https://aldermannugent.com/ to subscribe to Alderman Nugent's newsletter and learn about what she's doing for the 39th Ward. My office is open Mondays from 9am to 7pm, Tuesdays, Wednesdays, and Thursdays from 9am to 5pm and Fridays from 9am to 3pm. While the office is open for walk-ins, appointments are encouraged. We ask that everyone, regardless of vaccination status, wear a mask and maintain social distancing. Please reach out should you have any questions, comments, or concerns at 773-736-5594 or via email at Ward39@CityOfChicago.Org.
In the Neighborhood
Mayfair Fest on September 9 at Mayfair Park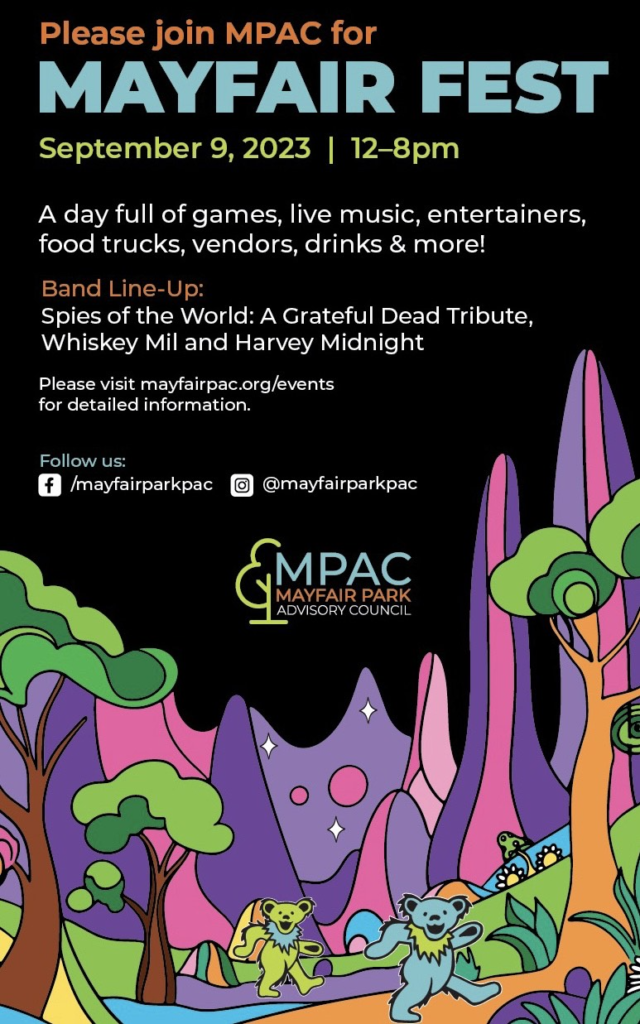 CAPS Meeting for Beat 1722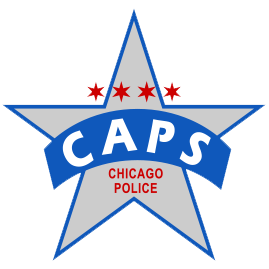 CAPS meetings for Beat 1722 are back in-person, and there is no Zoom or hybrid option. Meetings are held on the 3rd Wednesday of each month. The next meeting is on September 20 at 6:30pm in the Community Room of the 17th District Police Department at 4650 N Pulaski. A full schedule of meetings for the year can be found here.
The primary purpose of the beat community meeting is to allow beat residents, other community stakeholders and police to discuss chronic problems on the beat and to engage in problem solving using the CAPS five-step problem-solving process. Beat community meetings provide an opportunity for police and community residents to exchange information about conditions in the neighborhood, to identify crime and disorder problems, and to develop strategies to combat those problems. The meeting also provides an opportunity for police and community to get to know one another.
For upcoming meeting info, or if you have questions or comments, please contact the CAPS office at 312-742-4588, or email caps.017district@chicagopolice.org. Learn about the Office of Community Policing at https://home.chicagopolice.org/community-policing-group/.
Progress on mural at Relativity Textiles
As mentioned in the June issue, Erin Minckley, owner of Relativity Textiles at 4219 W Lawrence, had been in discussions with PEBA and Nick Yassen from Rany Management about doing a mural on the west side of the building. They're making great progress, and we're really looking forward to seeing the finished piece!
Nadig reports 42% increase in robberies since 2022
Nadig Newspaper reports in a August 23, 2023 article (link) that there have been 126 robberies in the 17th district of the Chicago Police — which covers Mayfair — in 2023 through August 20. That is a 42% increase from 89 during the same period last year. Be alert and stay safe out there!
Neighborhood businesses
St Edward School & Parish
Food Truck Festival & Block Party
Harvest Bash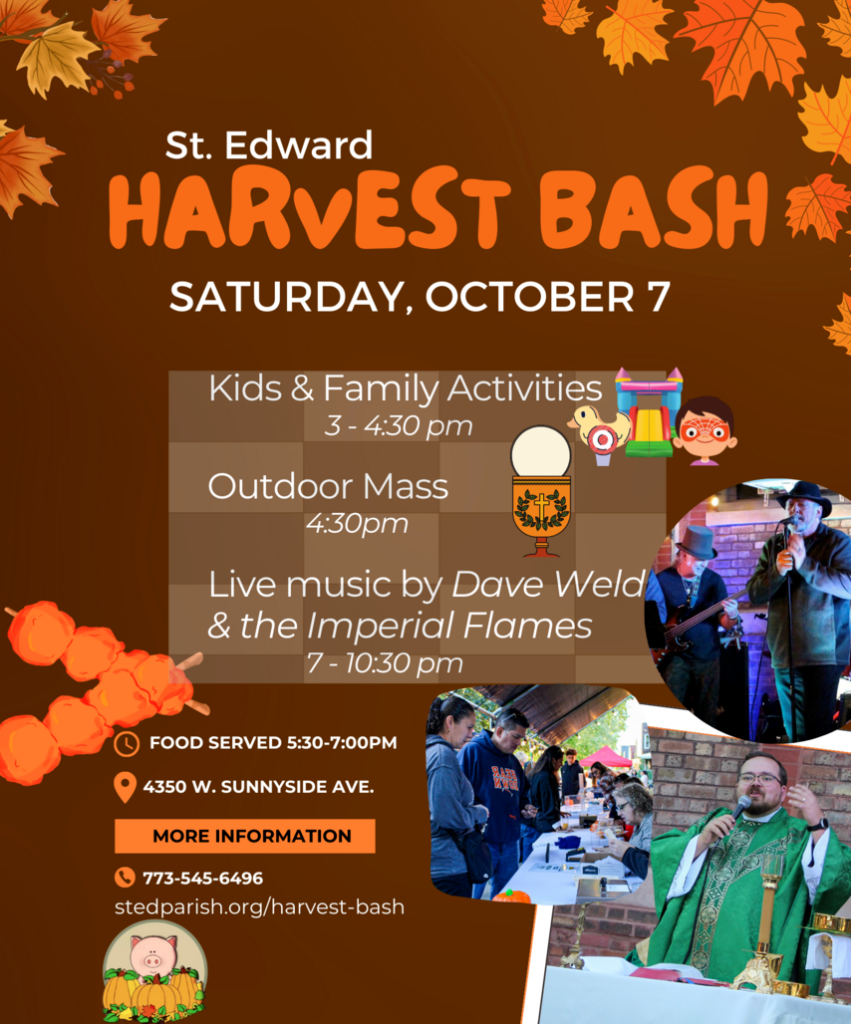 Save the date to attend St. Edward Parish Harvest Bash on October 7. This is the parish's biggest fundraiser and is a huge neighborhood-wide event.
Harvest Bash Schedule is as follows:
4:30pm – Outdoor Mass
5:30-7pm – Dinner Served (BBQ Pork & Vietnamese Food)
7-10:30pm – Live Music from Dave Weld and the Imperial Flames
Tickets are $20 and you purchase those online at https://stedparish.org/harvest-bash.
While you're at this event feel free to get in touch with our school's parent association to hear about new changes around our school. We implemented new security cameras, updated our library furniture, secured a new fence for our playlot, and partnered with Discovery Education to incorporate their STEM curriculum into our current science program in K-8.
Contributions
If you would like to contribute an article or other content to this newsletter, please reach out to us at mayfair-civic-newsletter@googlegroups.com. We have a distribution of 100s of Mayfair neighbors and growing. For more information on contributing to the newsletter, visit the Newsletter page.